What Is A Bidding War?
Posted by Miller Admin on Thursday, July 5, 2018 at 6:09 AM
By Miller Admin / July 5, 2018
Comment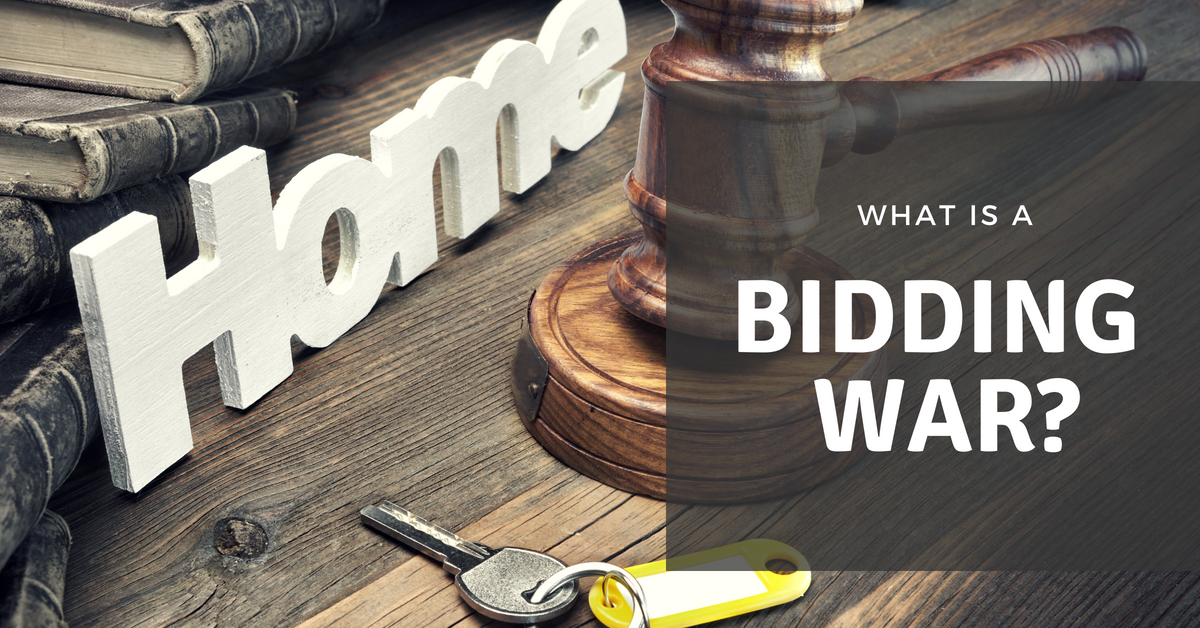 "Bidding Wars"... What Are They
The process of buying a home in today's housing market can be daunting. Although there is high buyer demand, there is a shortage of inventory. Bidding wars are very common in today's housing market.
Properties are now selling for 10%-20% above the asking price, particularly in locations with great amenities. In an environment where bidding wars are commonplace, you need to have the know-how to get the perfect house within your budget.
Breaking down a bidding war
First-time homebuyers find bidding wars to be unpleasant. But these wars also present a perfect opportunity for getting to an acceptable bid for a house.
But what are bidding wars? Why are they making property prices so high? And how can you win a bidding war? In the housing market, there are situations where two or more homebuyers are interested in a particular house. In such instances competing buyers are willing to pay more to outdo the other.
This increases the price of the house and causes a bidding war between the parties. For example, a house listed at $300,000 can sell for $350,000 in a bidding war. The first bidder might offer the initial sale price of $300,000. The second bidder will then offer $320,000 and the third bidder will offer $330,000 and so on.
This can continue to a point where one bidder decides to offer $350,000 for the house. This bid will make the other bidders less willing to pay more money to own the house.
How sellers encourage bidding wars
As noted above, two or more homebuyers can cause a bidding war if they want the same house. In other cases, it is house sellers or real estate agents that encourage bidding wars. Real estate agents can price a property below its market value. They do this as a way of encouraging many offers.
The price of the property will attract many buyers and a bidding war will ensue. Interested buyers will have to put forward their highest bids or offers to buy the property.
But in other situations, it is not always about which home buyer has put the highest offer. A seller will accept a lower offer if they want to sell their house fast with less hassle. Sellers do not want to waste time because the value of a property can decrease if it stays on the market for longer.
It's important to find a professional Realtor, they will be essential. Your main aim should be to outbid other bidders. This is the only way you will be able to buy a home. How do you do that?
How to win a bidding war
Before you can even begin your property search for a new home, it is important to prepare yourself. You can do this by getting your mortgage pre-approved and have all the paperwork ready. The paperwork can include:
proof of income

mortgage pre-approval documents

bank statements

work history
There are also other strategies you can use to ensure that you win a bidding war.
Set your maximum buying price
You should set the maximum amount of money you are willing to pay for the house. When setting this price, factor in:
Monthly mortgage payment

Property taxes

Potential condominium or homeowner association fees

Homeowners insurance

Potential monthly upkeep for things like unforeseen repairs, lawn care, etc
Once you set this price, look for real estate for sale with a lower listing price than your maximum. This will give you some room in case you get into a bidding war.
Pay with cash
One of the most effective ways of getting a seller's attention is to show them hard cash. Cash sales are now common and represent 40% of home sales. It is not easy to get a mortgage.
The process is long and arduous. Securing a home loan can also take weeks or months and there is no guarantee that a borrower will get the loan. With a all-cash offer, a real estate agent is sure that you are a qualified buyer. When they see hard cash, they know they will not go through a drawn-out and long mortgage approval process. Depending on the seller's situation and the local housing market, the seller will be more likely to accept a lower bid because it is in cash.
Make your contingencies flexible
Contingencies are simple clauses that allow you to get out of a deal if the seller does not meet certain conditions. For example, you are likely to sign a contract for buying a house contingent on appraisals coming over or in at the selling price.
The contract can also have a contingency clause whereby you have the right of backing out if you are unable to find a homebuyer for your old house. In a hot housing market, homebuyers tend to waive this contingency right. This is because they predict that selling a home will be easy and fast.
But in quite housing markets, a homebuyer is likely to pay two mortgages if they do not find a buyer fast. But there are also certain contingencies you should not waive. One of these is the home inspection contingency. In this case, you are buying a house contingent on getting the house inspected by a home inspector. If you waive inspection and major problems with the house emerge, it will be expensive for you to have them fixed.
Sign an escalation clause
In a bidding war, you can as well outmatch all other bidders by signing an escalation clause. This escalation clause can make the difference when bidding wars arise, if you really want to buy a home. A typical escalation clause will state that a buyer will pay an X amount of money, say $2,000, more than whatever the highest buyer offers.
For example, if the highest bidder offers $100,000 for the house, this will increase your bid to $101,000. But this strategy can also be risky and expensive. It is risky if other bids are not genuine or if the people making those bids are not interested in buying the house. In such a scenario, the best solution is to a cap on your bid.
This will allow you to avoid paying more than 5-10% above the initial asking price. The downside to putting a cap is that you may never buy the home after the seller receives all bids. Getting a home at the maximum price you have set might not be easy today.
As such, you may have to get into a bidding war to buy your perfect home. Bidding wars are not difficult to win; you just have to arm yourself with the right strategies which this article has hopefully outlined. If it gets too hot, you might want to consider walking away. This will allow you to take time and look for another home that sells within your budget.